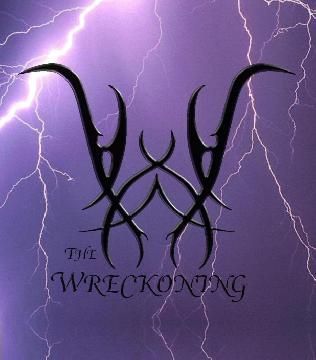 The Wreckoning is a four piece band from Atlanta, Georgia. They have been together now for about 14 years. The members are: Keith Watkins- The Voice, Andy Brooks - The Guitars, Phillip Howell - The Bass and Carlos Saenz - The Drums. The Wreckoning is totally committed to the music they play, and their fans who love it. The Wreckoning has a full on love for pure Rock and Metal, something that is lacking over the airwaves, and on music store shelves nationwide. The Wreckoning plays with energy, excitement, and power, and their goal is to put this hard rock machine on the road, and play in the face of every single person who loves Real Rock! Check out the tunes and you be the judge!
Andy Brooks- The Strings-
       Well...it started for me in 7th grade. Some friends and I got together and started a band called "Silent Thunder." I played keyboards and we had a blast!!! Soon I started dabbling in the guitar. So my parents bought me an SG copy at a J.C. Penny outlet store. I have been hooked ever since. I started playing in bands around town when I realized I better learn what I was doing. So in 1989 I went to The Guitar Institute of Technology (G.I.T). After Graduating I joined a band called "Mad Child." Then I joined a few other bands before landing in a rock band called "Rough Diamonds." We had a great run but I wanted more...so I started the band "Groper." This band went through many different line-ups...one that consisted of Keith and myself. I soon after found myself playing in a band called "Spittin' Kricket's." That was a great time!!! But I soon found myself wanting my old band back. I got Keith, Carlos and Phillip all in different ways, and at different times...but we are finally together!!! This is the band I have always wanted!!! So here I am. I hope you love our music as much as we love writing, recording and playing it!!! ROCK ON!!! .
Phillip Howell - The Bass
My earliest memories of music are of my father,who was in the army at the time. His job among other army things was Army band master of the various posts we were stationed at through the years. Dad was a classically trained musician and he played many instruments,but his main axe was the french horn. I remember him playing records of Bach,Beethoven,mozart and others. The first live music I ever heard was my dad practicing his french horn. On rare occasions he would be allowed to take me and Mom and my two brothers to watch him conduct his band. I even saw him one time on TV live at a San Fransisco 49ers  half time show, that was cool! But the coolest was when we lived in Germany, he played bass with a top 40 band on the side and we got to go on the bus with him for a little day tour. The crowds loved it, that's when I knew I wanted to be in a band. After that dad would bring home various instruments, guitar, bass,drums, flute, trumpet, oboe, of course my favorites were guitar and bass. I remember one time he brought home a bright yellow Fender Mustang bass, it was awesome, I wish I still had it now! Dad was too busy to teach me more than the basics on guitar and bass, but I had the bug, so I would practice on my own until I got good enough to try and get in a band. The first band I tried out for already had two guitar players so I ended up auditioning on an old Memphis P style bass they had hanging around the jam room. The deal was if I would put strings on it and I could play at all I was In! I've been playing bass as my main instrument ever since.

I spent some time after that seriously learning my craft at the Musicians institute under the tutelage of Russ Rogers, spent about a year and a half majoring in music at Lander college and briefly at Georgia State University. I learned a lot, but ran out of money and then I just concentrated on trying to make music my career.

Today many bands later I'm holding down the low frequencies for The Wreckoning. My influences are many and varied ,but aside from God being my #1 influence and inspiration, I generally gravitate toward bands with strong bass players ie. Steve Harris/Iron Maiden,Geddy Lee/Rush,Geezer Butler/Black Sabbath,Justin Chancellor/Tool,Billy Sheehan,Stuart Hamm,Noel Redding, Jack Bruce,Jaco Pastorious,Stanley Clarke,James Jamerson,Bach,Beethoven,Mozart, Andy Brooks,Keith Watkins,Scott Garner,blues,Jazz etc.etc... in fact I would say I have been influenced by all the music I have ever heard in one way or another. it is always evolving and coloring the way I approach the bass.

PEACE


Carlos Saenz is the heavy hitting drummer of The Wreckoning. His amazing talent for coming up with the right beat for the right song carries this band to a new level. With songs that cover almost every style of music, the original beats Carlos throws in the mix is a remarkable touch. You will love his playing as much as you love the man!!
For those of you that just want to know more about the individuals that make up The Wreckoning, here is my personal bio. I started singing in the back seat of a car at the age of 3. My mother tells me that whenever Elvis Presley came on the radio, I started singing, and I might add that she said I even knew the words. My favorite singer, was, is, and will always be, Elvis Presley, period!!! I have far too many influences to name, but will give you a few in different genres. First we will hit Hard Rock and Metal. Rob Halford, Glenn Hughes, Steve Perry, Geoff Tate, Ray Alder, Ian & Ray Gillan, Ralph Sheepers, Bruce Dickinson, Ronnie James Dio, and MANY more. Now, the Crooners. Dean Martin, Frank Sinatra, Nat King Cole, Roger Miller, and many others. My favorite country voice oddly enough is Dwight Yoakam. He just has a very unique blend of rock and country, as well as a very distinguishable voice.
I have had no real formal training to speak of. I started out in children's programs in church as a kid, and then started doing solos and it just took off from there. I went to a performing arts high school and was in the music program there, but just did not enjoy singing in a group of people. I like to pretty much be the only voice I guess. Not much into the choir thing. I have been singing in rock bands since the age of 15 and just cannot get it out of my blood. I write almost all of the lyrics for The Wreckoning, and try to pride myself on being a good writer of songs with meaning, and not just a bunch of garbage filler. However, I still have so far to go as a writer and feel that my best songs have not even come to the surface yet. I definitely write from a darker mood and feel, as my childhood was a living hell and nightmare, as well as many day to day problems that have wrought so much grief and stress in my life. My way of dealing with the past and present is in the words I write. I truly love what I do and could not imagine life without singing and writing. It is who I am and what I will always be. I hope that you enjoy and feel what you hear, and stop by and read the lyrics and get the full meaning to the songs that we currently have. I greatly appreciate each and every one of you that comes to the shows and listens to our music. I love being on stage and performing live for all of you. Drop me a line sometime and let me know what you think about the music and the website. Thanks again to all of you for the love and support on this great journey. You make it special, Keith